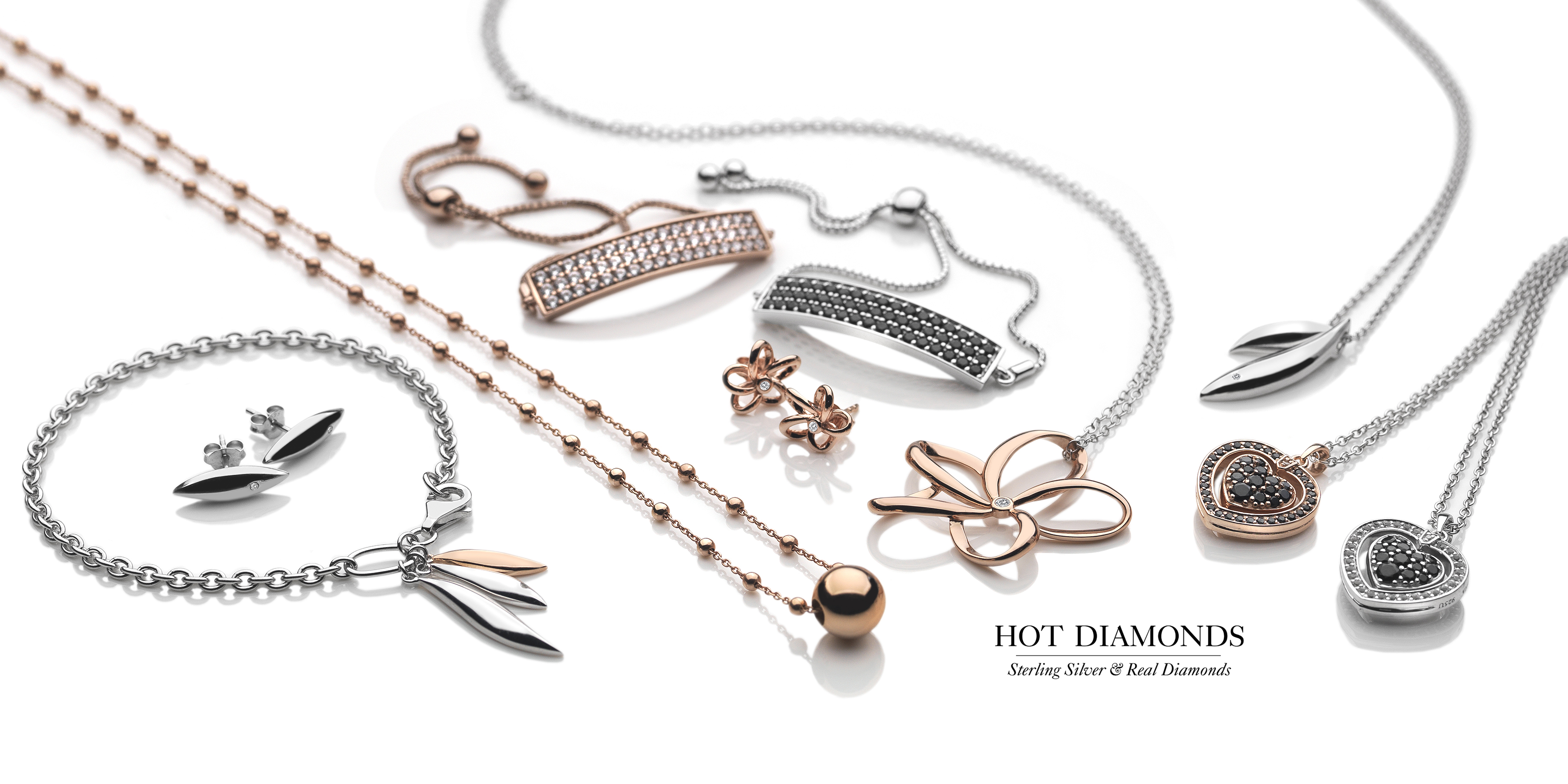 Hot Diamonds
We stock a wide range of Hot Diamonds pendants, necklaces, bracelets, bangles, rings and charms.  Each pieces is set with at least one real diamond.  There is a real diamond in every design.  All diamonds sourced are conflict-free.
To ensure the most wear resistant finish possible all sterling silver pieces are rhodium plated and only quality sterling silver is used in all of the silver collections.
Hot Diamonds is a 100% UK owned brand.

A collection of bracelets and bangles expertly crafted in sterling silver and always adorned with real diamonds. Timeless yet contemporary bracelets and bangles are joined by classic charm carriers, precious gemstones highlights and statement cuffs, laden with 8 diamonds!

Earrings are delicately crafted in sterling silver, often accented with precious gemstones or 18ct yellow and rose gold and are always adorned with at least one real diamond. The perfect accessory to any outfit!

From classic sterling silver finishes, through charm pendants to delicate 18ct rose gold accents from Shades of Spring.  Hot Diamonds necklaces and pendants are perfect for all occasions and are always adorned with a signature real diamond.

Rings are expertly crafted in sterling silver and always feature the generous addition of a real diamond. Choose classic sterling silver with white pearls, cocktail rings featuring black onyx or mother of pearl or perhaps delicate 18ct Rose Gold - a collection of rings designed to thrill!
Your most precious moments and cherished memories deserve to be celebrated with diamond charms. Sometimes frivolous, yet always exquisite, 'Diamond Life' is the perfect charms collection to mark the twists and turns of your life's journey.

Conflict-free Diamonds
All diamonds used in Hot Diamonds jewellery are conflict-free.  These are only sourced from suppliers who are signed up to the Kimberley Process.